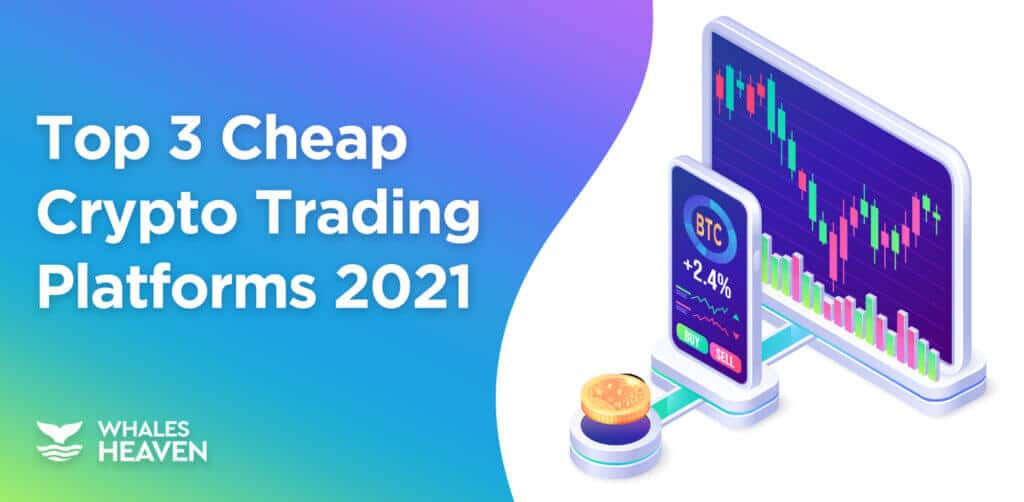 When you want to pick out the perfect crypto exchange platform to trade your crypto assets, there are many crucial factors that need to be taken into careful consideration. Crypto Investors often consider factors like Security, Number of coins supported, transaction speed, and so on – all of these things are very important. In this article, however, we shall be taking a closer look at a list of cheap cryptocurrency trading platforms.
You may be wondering, "what does it mean for crypto platforms to be 'cheap'?" Well, it simply refers to platforms that allow you to exchange your crypto assets seamlessly while saving a whole not only on fees but transaction time as well.
With that in mind, here's our list of cheap crypto platforms:
Three Cheap Crypto Trading Platforms
Binance
Poloniex
Whalesheaven
Now, let's examine each of them and explain just how much money you can save while trading on each platform.
1- Binance

Binance is one of the most popular crypto trading platforms in the world. It offers several exciting trading features, such as crypto margin trading, derivatives, liquid swaps, etc. More importantly, transaction fees on Binance are one of the lowest in the market. Fees are generally capped at 1%, but for lesser volumes, it can even be much lower.
What we liked about Binance
+ It a very prominent crypto trading platform across the world.
+ It supports over 100 cryptocurrencies. Giving you a wide range of assets to trade.
+ It uses two-factor authentication to secure your funds.
+ It offers many different trading options.
Downsides of Binance
Beginners may find it difficult to navigate the platform.
2- Poloniex

Poloniex is another interesting trading platform that you need to look at as a crypto trader. Asides from its extremely low fees, it's worth noting that the platform also requires minimal levels of verification. The user interface is simple and beginner-friendly. With its amazing customer support team, Poloniex is definitely on its way to the A-list of crypto trading platforms. When it comes to transaction fees, Poloniex is extremely cheap. Fees range from Zero to 0.125%. You'll have your work cut out to find another excellent platform this cheap.
What we liked about Poloniex
+ Minimal verification requirements.
+ Low trading fee.
+ Great customer support.
Downsides of Poloniex
History of minor security flaws in the past.
3- Whalesheaven

Whalesheaven is another trading platform that every crypto trader must pay close attention to. Imagine a platform that charges you nothing on withdrawals, offers a safe and secure way to trade using multisig wallets. Another upside is that KYC verification on the platform is optional.
When it comes to low trading fees, Whalesheaven is as low as it gets.
What we liked about Whalesheaven
+ Safe and Secure platform.
+ Zero withdrawal fees.
+ Optional KYC.
Downsides of WhalesHeaven
The platform is still relatively new.
Conclusion
It is important to keep track of the charges that you pay on your when you trade crypto. While these charges may seem negligible at first, they really do add up over time. With these platforms that we've recommended you get to trade smarter and keep more of your profits.
Follow us on Twitter to get the latest crypto news & opinions!